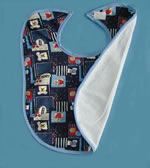 Velcro fastening, shows absorbent lining. (Sizes S, M, L available)
All our feeders have a moisture absorbent towelling lining that contains the spillage, not letting it run off to soil clothes as with plastic lining. Sizes S (6 mth), M (1 yr), L (2 yr) and for retirement homes etc, XL (mature age) cover ups.
Styles: rib neck / velcro / tie / with sleeves.
Mature age full and half length cover ups. (Any size available, to order) Additional moisture repellant backing also available if deemed necessary.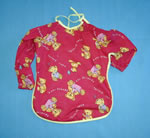 Long sleeve neck tie. Sizes 6 mth, 1 yr, 2 yr.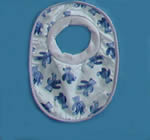 Rib neck. Sizes S, M, L. (new born to 2 yrs)