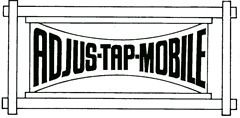 Unfortunately Tapestry frames are unavailable at the moment

There are three models, and many configurations and options available with Adjust-Tap-Mobile tapestry frames. Looking through the information provided here, you will see that we can cater for most situations of use.

All Adjus-Tap-Mobile frames are constructed with tubular, anodised aluminium - making them light and strong as well as looking good.
MODELS
Lap Frame: the smallest (35 cm) frame, ideal for small tapestries while working in bed, in the car, or taking away on holidays.
Table Top Frame: mid size (61 cm) frame, for larger tapestries when working space is restricted.
Deluxe Floor Mobile Frame: a floor standing unit with castor wheels for ease of movement. Suitable for tapestries up to 84cm.
Note: All frames can be extended by fitting longer rods (allowing wider tapestry cloths to be mounted).