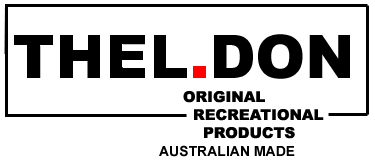 Theldon is a Melbourne company designing and manufacturing products which cater for the discerning needs of people in three categories of leisure products:


The Bush.B.Q pole mounted barbeque, and the Billabong folding barbecue are a unique range of camping barbeques especially designed for the four wheel driver and bush camper.
Unfortunately Tapestry frames are unavailable at the moment

The ADJUS-TAP-MOBILE range of tapestry frames are designed to provide an ideal frame for doing most sized tapestries, and in many circumstances. (In bed, on a chair, in your lounge room or as a mobile frame). The frame to suit you will be amongst our range.

Thelma's Art Smocks has developed a huge reputation among schools and nursing homes for supplying colourful, hard-wearing, water resistant art smocks, aprons, feeders and mature age cover ups.